Our hotel has thirteen bungalows, surrounded by lush nature. Each offers its own characteristic and capacity. We offer you the essential keys to savor the nuances of Caribbean culture with a varied color and texture, in a break in Costa Rica. This is a country that has chosen to preserve wildlife as a resource. All equipment Namuwoki Lodge bet and work to exceed your experience tourist sense and enrich you as a traveler.
For more information: Contact us Website: Click Here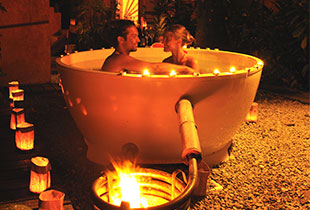 The complex is located on a 10 acre ocean front property in the famous Punta Uva beach, just south of Puerto Viejo in the province of Limon. Total privacy, a natural tranquil atmosphere, and full relaxation are only words to explain the time you will spend at the tree house. With your own beach access and 300 meter beach front, you won't have to meet anybody else during your stay at this romantic hideway.
For more information: Contact us Webstie: Click Here
The Hotel ESCAPE CARIBEÑO, with fourteen comfortable bungalows, is located in the small Caribbean village of Puerto Viejo (Limon, Costa Rica). The Hotel is 7 minutes from the "Pueblo", in front of the famous Salsa Brava beach. In the coral reef, next to our hotel, there are different natural pools where it's possible to swim around, do snorkeling and places for the lovers of the mountain bike.
For more information: Contact us Website: Click Here
Azania Bungalows is located in Cocles Beach, the perfect beach for surfers and one of the most popular beaches in Puerto Viejo. At just 50 meters from the beach, surrounded by tropical rainforest each bungalow is situated independently so you can relax and enjoy privacy.
For more information: Contact us Website: Click Here