With a spectacular view of the Arenal Volcano, natural hot and cold springs, five unique dining experiences, and an impressive full service Spa, The Springs Resort and Spa at Arenal promises to overwhelm you in every aspect of quality, service and design. This Costa Rica luxury resort perches one thousand feet above the Arenal Valley on a mountain ridge just six kilometers north of the active volcano but safely outside the government declared danger zone. Our luxury hotel's higher altitude relative to other hotels in the area allows for not only incomparable views of the Arenal volcano, the lush valley, and the surrounding towns that sparkle at night, but also access to the area's famous prevailing breezes. With an average daytime high temperature of 80˚F in the shade and nighttime lows averaging 70˚F you are sure to enjoy countless comfortable hours in your balcony hammock, al fresco dining, or sipping a frothy tropical cocktail in one of our spring pools or our private Arenal hot springs.
For more information: Contact us Website: Click here
Montaña de Fuego Resort & Spa
At the foot of Arenal Volcano sits Montaña de Fuego Resort & Spa, a hotel inspired by its natural environment, surrounded by 86 acres of tropical forest on a private reserve, enhanced by its lush vegetation, rivers, waterfalls and diverse wild life.
Montaña de Fuego Resort & Spa offers the ultimate vacation experience for those seeking a tropical Costa Rican adventure. Located in La Fortuna, the resort offers visitors extreme nature, adventure, culture & unique experiences.
For more information: Contact us Website: Click here
Arenal Kioro offers a fabulous place with a natural viewpoint to the Arenal Volcano.The hotel has 27 acres of undulating land, surrounded by two streams (La Palma and Kioro) with crystalline waters that begin to flow in the Arenal Volcano National Park. Private Thermal water surrounds exuberant gardens for our guests´ pleasure. The hotel hosts 53 suites, 11 with one king bed and a daybed and 42 with two Queen bed and a daybed, with two "Juliet" balconies with the best panoramic volcano and mountain view, hydro massage hot tub, air conditioning, safe deposit box, minibar, coffee maker, hot water, direct dialing telephone, cable television, hair dryer, key card, safety locks and wireless Internet. Our restaurant offers exquisite local and international cuisine by our award winning chef specializing in red meat and seafood. Neidin Spa is a little nest where you can awake your senses with the sounds of nature.
For more information: Contact us Website: Click here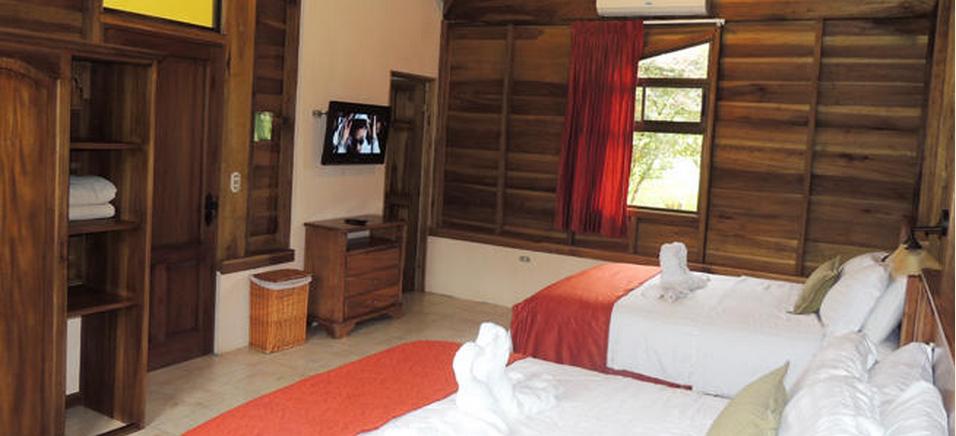 Hotel Campo Verde designed for the enjoyment of couples and families, located right in front of one of the world's most active volcanoes, the Arenal Volcano, just 10 minutes from the beautiful village of La Fortuna. The hotel is run by their owners, distinguished itself by its dedication to responsible sustainable tourism, and its personalized, quality service and attention to detail, making all the difference in our customer's satisfaction.
For more information: Contact us Website: Click here
Arenal Paraiso Hotel has a unique charm, combined with the Paradise of the majestic Arenal Volcano and the northern plains of Costa Rica.
Our beautiful rooms are surrounded by natural scenic beauty that will take you to a place of complete relaxation and comfort and connect you to the natural world around you.
For more information: Contact us Website: Click here
Tabacon Grand Spa Thermal Resort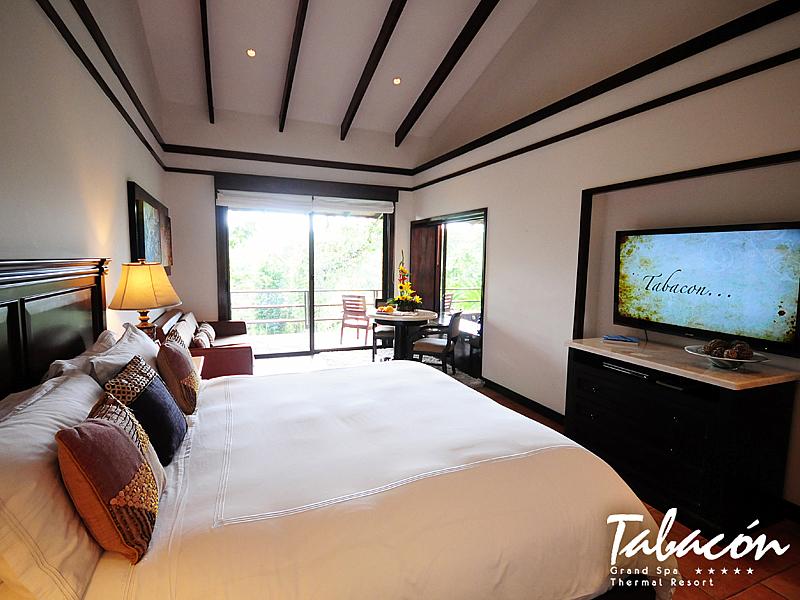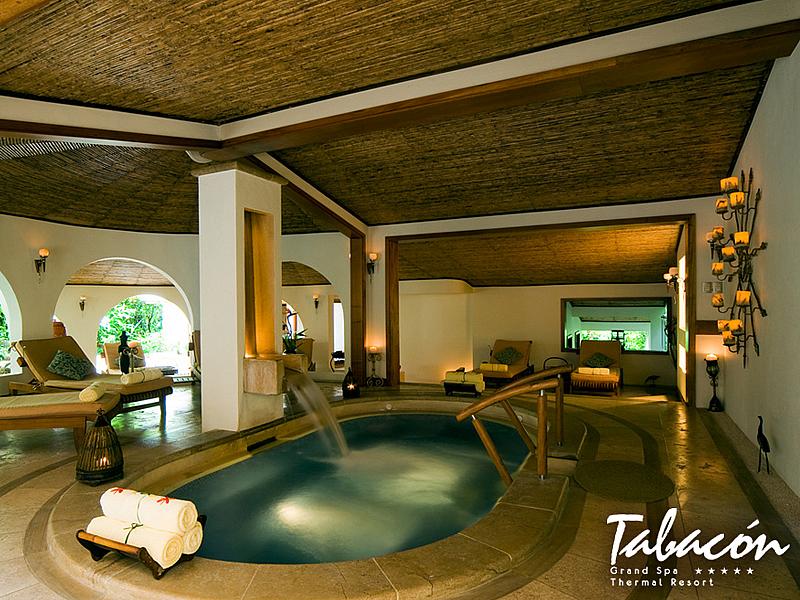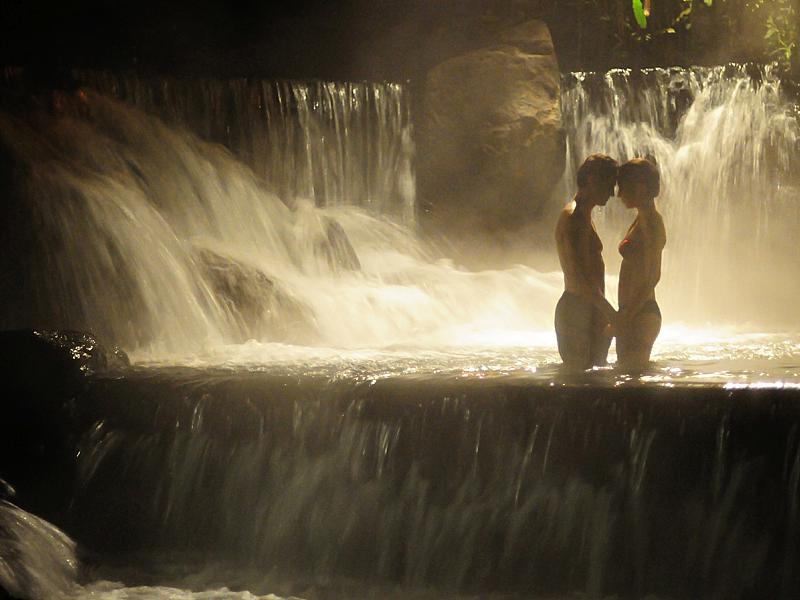 Tabacon Grand Spa offers the unique combination of the energy of the Arenal Volcano, the heat of the Tabacon Hot Springs and the purity and mystic of the surrounding rainforest blend into what many have described as "paradise" or "the eight-wonder of the world". The four elements of nature are present in this unique Arenal Volcano luxury hotel and resort, featuring the heat of the volcano, the flowing waters of the hot springs, the pure air of the rainforest and the fertile earth of the of the Fortuna de San Carlos Region. Tabacon Grand Spa Thermal Resort is a 102 guest room Costa Rica luxury hotel located at the base of the Arenal Volcano.
For more information: Contact us Website: Click here
A boutique hotel in the mountains of Northwestern Costa Rica. A half-hour from the small and fun town of La Fortuna they offer a private and tranquil atmosphere with spectacular views of Arenal volcano and lake Arenal. They hope that their guests will experience, in the serenity of their NEPENTHE, a respite from everyday worries and concerns. Whether relaxing in or by the spring-fed pool, lounging in a hammock or watching the beautiful views of Arenal Lake, Arenal Volcano and the jungle and wildlife from the rocking chairs, we want our guest to share the peacefulness of our part of paradise.
For more information: Contact us Website: Click here
They provide visitors a welcoming, warm and tailored vacation experience in a family style setting. This is an authentic back to nature property that allows guests to witness the diverse Costa Rican flora and fauna in its natural form. The old fashioned, rustic and charming Arenal Oasis Eco Lodge is an eco-friendly Lodge with friendly service. The lodge is predominantly an ecological farm that has been devoted and has adhered to strict practices in sustainable development along with conservation policies for many years.
For more information: Contact us Website: Click here
Located in Arenal, Volcano. Finca Luna Nueva offers a living classroom and a hotel at the same time, you can enjoy the nature and learn while you are relaxing in a beautiful ecofriendly hotel. A farm to table experience, with miles of hiking trails, farmland, and herbal gardens. Finca Luna Nueva has special packages for groups and families.
For more information: Contact us Website: Click here